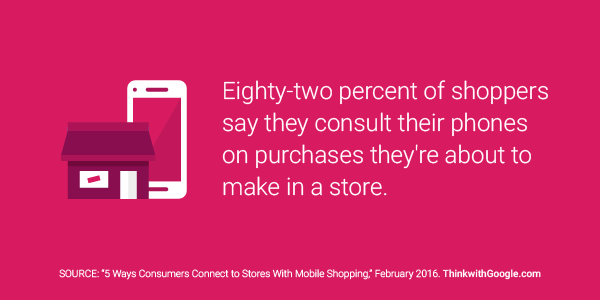 22 Feb

82% check phones in store before purchasing
Eighty-two percent of shoppers say they consult their phones on purchases they're about to make in a store.
1. Smartphone shopping has created a new "front door to the store." That's the phrase the retail giant Target now uses after learning that three-fourths of its guests start their shopping journey on mobile, and that one-third of guests who click on a mobile search ad take a trip to a Target store. Similarly, the telecommunications company Sprint discovered that one in four people who click on their mobile search ads end up in a Sprint retail store.
2. Consumers are hungrier than ever for local information.Google searches with "near me" have grown 2.4X year-over-year.2In fact, a 2015 Google Consumer Survey found that 50% of consumers who conduct a local search on their smartphone visit a store within a day, and 18% of those searches lead to a purchase.In the eCommerce space, mobile checkouts needs to be a simple checkout process, and it does require testing. If customer is more comfortable talking to someone to help them thru the checkout process, make sure your phone number is clearly visible !  This can be easily overlooked in the conversion process.
3. Ads that show local inventory drive shoppers into stores. One in four people who avoid stores say it's because they don't know if a product is in stock.4 If you're an omni-channel retailer, showing shoppers the items you have in stock at nearby stores can be half the battle. After adopting Local Inventory Ads, which show actual store inventory to online searchers, Sears Hometown and Outlet Stores saw a 122% increase in store visits. Furthermore, Local Inventory Ads drove eight dollars of in-store sales for each dollar invested.
4. Smartphones are the new in-store research advisor. Eighty-two percent of shoppers say they consult their phones on purchases they're about to make in a store.5 Amazingly, nearly one in four shoppers say they have changed their minds while in a checkout line after looking up details on a smartphone.6 The beauty and body-care retailer Sephora has been a leader in treating in-store mobile behavior as a major opportunity: They encourage in-store customers to scan products into Sephora's mobile app to receive product ratings, reviews and other key information.
5. Omni-channel shoppers spend more. According toMasterCard, customers who shop both online and off with a specific retailer buy 250% more on average. Macy's discovered that its omni-channel shoppers are 8X more valuable than those who shop in a single channel.
Whether you're a global brand or a local shop, mobile is changing your shoppers' behavior in and out of the store. It's essential to be there on mobile. But it's even more important to create rich and relevant experiences that connect your stores with shoppers in all of their micro-moments—and encourage those shoppers to come back again and again.
Learn more about Increasing your Mobile Conversion
Error: Contact form not found.